Back to Vittles -- Food and Drink
Yes, we have more than one Big Green Egg. In the picture you see our "large" and our "small" eggs. The BGE is made of ceramic, burns lump charcoal, and functions as a grill, oven or smoker. The construction is patterned after the kamado style cookers found in the orient.

The unique construction allows one to quickly build hot fires up to 1000 degrees (F) or hold low temperatures around 200 degrees for hours at a time. At the same time, the cooker seems to hold in moisture for some of the juciest meat entrees ever.

We bought our first BGE (the Large) while traveling through Kentucky in 2003. It is a heavy sucker but we used it at many campsites and were generally impressed with its ability to do steaks and roasts. Then we got it home and started doing low and slow as well as baking bread and pizzas. Needless to say, we fell in love with it.

But, I didn't look forward to dragging it along camping again. Moreover, we bought a new fifth wheel and I wasn't at all sure I had a place to carry the big egg. So, I sprang for the "small" and devised a way to carry it with us including a specially crafted table designed to fit in the pickup bed under the fiver. This has worked so well, I have included a page dedicated to the camp egg idea.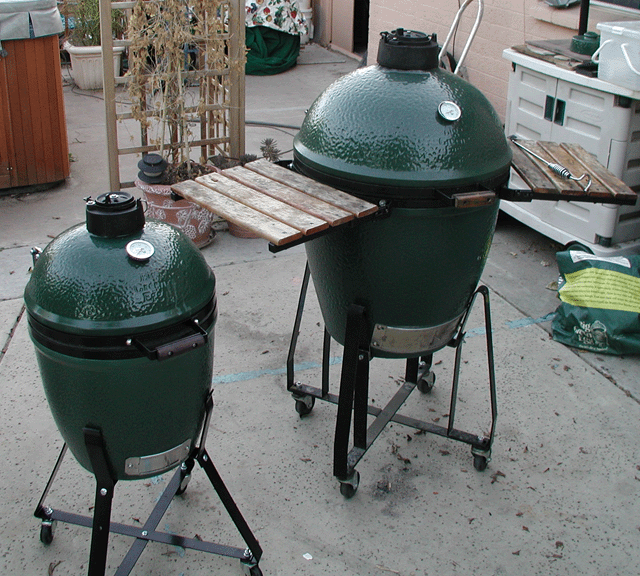 Everyone has heard of beer can chicken. Here are the first ones we did on the egg. They were soaked for several hours in a honey brine before slow cooking. Notice we really didn't use beer cans. Rather, the chickens are sitting on grill stands. They are cooking "indirect" over a "platesetter" and I used an alluminum pan to catch the drippings. Also, notice the temperature probe in the breast of the chicken on the left. There is another one in the thigh on the right chicken. I always use one or more temperature probes to ensure consistant results. These chickens turned out moist and tasty.

Lately, I have come to favor "spatchcocked" chicken. That is where you cut the back in half and spread the chicken out flat. It is cooked flat on the grill, breast up. This makes it cook very evenly.

One of the great things about the BGE is that you really don't have to turn things to get them to brown all over. In fact the top inside the dome is hotter than the grill surface.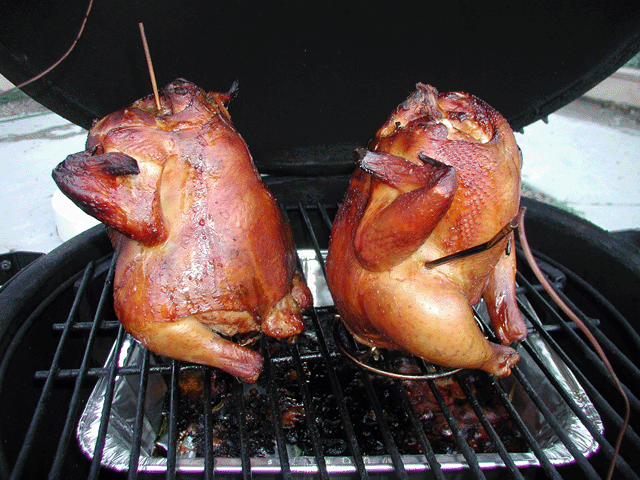 This was our first attempt at Atomic Buffalo Turds (ABT's). There are also some beets I cooked at the same time. Both were excellent.

ABT's are basically stuffed jalapeno peppers wrapped with bacon. They are very good and allow for a range of experimentation. The amount of seeds and placentia left in the pepper will determine how spicy the final result is. The stuffing can range from xcream cheese to pulled pork. My favorite is a mixture of chorizo sausage and cheddar cheese.

I have found that thin slced bacon works much better than the thick stuff. In the picture, you will see I had to resort to tooth picks to keep the bacon in place. This is not necessary if you use thin bacon.

Time on the grill is short -- maybe 30 minutes at 350 degrees.

Victoria's cousin Sharon picked up on this idea and tried a variation where she crisps some pepperoni and mixes it with cheese for the stuffing but skips the bacon wrap altogether. She uses both Jalapenos and yellow hungarian peppers. With this variation, the time on the grill is very short.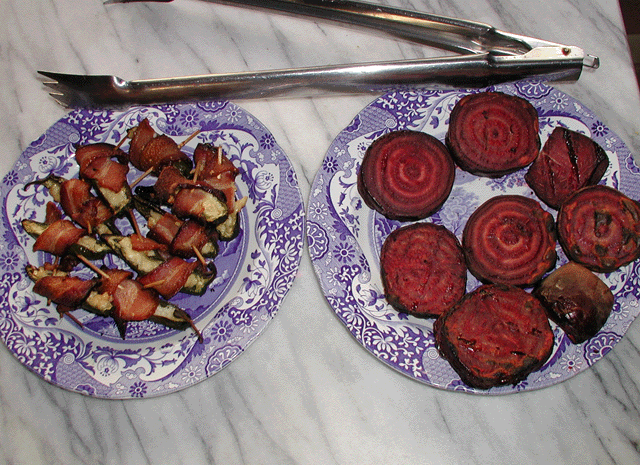 The first time I did pulled pork, I got it on at midnight and took it off about noon the next day. It was wrapped in foil until supper time. I actually did two butts at the same time. One we pulled for supper and the other was frozen and sliced later. Both were really, really good. BTW, that is coleslaw in the dish next to the pork. Coleslaw and pulled pork -- makes my mouth water just thinking about it.

This cook was done at 225 degrees. I got up several times during the night to check on the temperature of the egg, but it was locked right in where it was suppossed to be.

Since then, Ihave invested in a "BBQ Guru". This handy little device is a thermostatically controlled fan that is able to set and hold the temperature of the grill to a few degrees over long cooks. I use it for about everything up to grill temperatures of 400 degrees. Above that, I still use the fan to blast fires up to the 700 degrees for searing steaks. More on the BBQ Guru later.