Welcome to our consulting business description. Our official name WAS "Creating Alternatives in Management and Marketing, L.L.C." Consulting was the original core business of Creating Alternatives. Our business is understanding of markets and market behavior. We believe
Better knowledge of your market means better decisions for your business.
The best decisions result when there is knowledgeable selection from a spectrum of credible alternatives. The mission of our company is to help management achieve the knowledge required for quality decisions. This knowledge leads to the discovery of the various alternatives available. Our primary focus is at the boundary between suppliers and customers where we investigate quantitative and qualitative behavior.
Our company, Creating Alternatives, has a unique process for the analysis of markets. This
process was developed to achieve a balance between quality, cost, independence, and timeliness. The process uses five strategies.

1. Appreciative Inquiry interviews to encourage "story telling".


2. Literal Interview Transcription for "Data Mining"


3. Comparison of anecdotal clues to industry statistics


4. Parametric market models reflecting industry numbers


5. Conclusions balanced "between the head and the heart"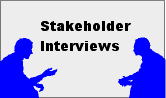 We believe our techniques are valuable in a variety of situations. Moreover, we offer our clients the advantages of independent objectivity and anonymity in the interview process.
Come on in and explore this site as we explain our process and suggest ways we might be helpful to you. The navigation panel on the left side of the screen will lead you to the pages that will answer your questions. For more specific information or to discuss a project, feel free to contact us at the address below.




602-509-7900

dave@brickner.com


www.brickner.com